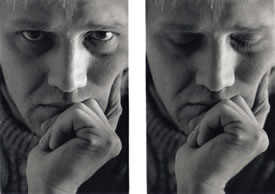 Raymond Kinghan was born in Belfast and it was at the Belfast College of Art that he started his studies, earning a BA hons degree in 1977
In 1979 he was awarded an MA with distinction (the first distinction awarded in the UK)  in Industrial Ceramic Design at North Staffordshire Polytechnic and was working as a freelance ceramics designer in the Staffordshire pottery industry.
This experience proved crucial for him as he reacted strenuously against the type of work which the ceramics industry viewed as commercially desirable and which he was constrained to produce or reproduce in order to make a living. Raymond had made work concerned with animals since his B.A. days in Belfast and while in Staffordshire he held three exhibitions, two of them solo shows, which confirmed his commitment to the theme.
In 1984 he set up Parrot Lodge Pottery in Co Down. Developing his understanding of form by making animals, birds and fish ceramic sculptures.
After moving to Dublin in1991, he started the forms of Life Studio to expand on these themes.
Having quietly continued to paint, Raymond closed the Forms of Life studio in 2013 and is now painting full time.
RAYMOND KINGHAN – PUBLIC COLLECTIONS
Fujita Vente Museum, Tokyo, Japan
World Crafts Council, Washington, U.S.A
Presidential Palace, Austria
Crafts Council of Ireland
SELECTED EXHIBITIONS AND ACTIVITIES
2016
DESIGN ISLAND Exhibition;
THE CURRENCY CANNON
THE IPHONAGRAPH
THREE PAINTINGS
Niland Gallery, Galway
2015
DESIGN ISLAND Exhibition;
The first showing of NIMALS,
with CHAIR SHAPED PAINTINGS
and framed PAINTINGS
Niland Gallery Galway.
2014
Solo Exhibition;
POSTERITY
Sculpture and painting, over 60 works.
Gallery Zozimus, Dublin
2008/2009
Bronze Bulls
Bord Bia
Chefs Irish Beef Club
2007
Stations of The Cross
Dunloy Parish Church.Co. Antrim
2006
PlanExpo: Ireland's showcase for the built environment.
Ceramic Tile series.
RDS Simmonscourt, Dublin
November 2006
2003
Royal Hibernian Academy annual Exhibition ;
Obelisk No. Three. Alexandra College Hermione Exhibition ;
Bronze Sculptures. Barry's Teaset Exhibition, 10 selected artists, Kilkenny Shop Dublin;
Launch of New Silver Sculpture, DesignYard, Dublin.
2002
Royal Hibernian Academy Annual Exhibition, Two Obelisks
.
2001
Private Commission, Nefertari recalls Cucullain, 8ft high,
Bronze and Stone
.
1998
Public Commission, Spirit of a Farmer, Stainless Steel, Dublin Zoo
1996
Three Person Show, "feats of Clay", Cill Rialaig Gallery, Dublin.
1995
Cill Rialaig Project Exhibitions, Limerick and Dublin.
1994
Solo Showcase Exhibition, "Just Passing Through" Crafts Council
Gallery, Dublin.
1993
Two Man Show with Paul Berg, "On a Wing and a Prayer", Grainstore Gallery,
Galway Arts Festival, Galway.
1993
Exhibition, "Celtic Art and Irish Art Today", Fujita Vente Museum,
Tokyo, Japan.
Exhibition, "Passagentage", Sophie Ungers Gallery, Koln, Germany.
1979
M.A. (distinction) Industrial Ceramic Design, North
Staffordshire Polytechnic.
1977
B.A. Hons., Ceramics, Belfast College of Art and design.
Raymond Kinghan